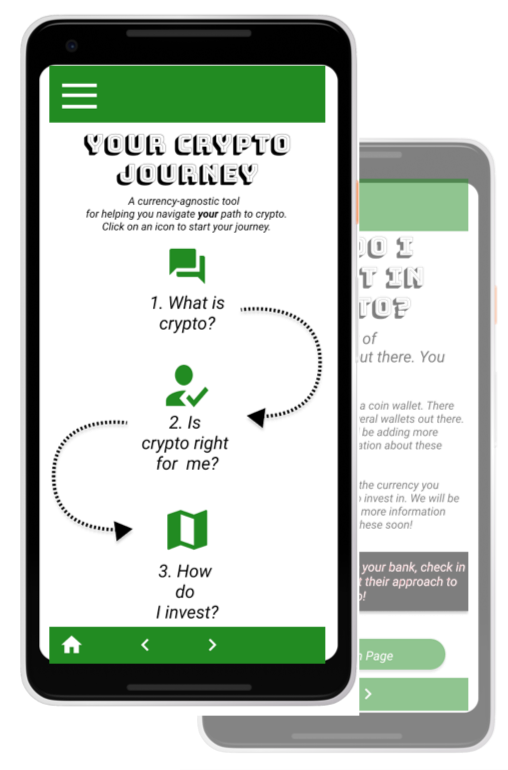 PROJECT OVERVIEW :
Project Duration: July 2023- August 2023
The Problem: Many adults cannot define cryptocurrency and are overwhelmed about where to find unbiased information to learn about crypto and investing in crypto.
The Goal: Design an app and responsive website that teach adults about cryptocurrency in a clear, unbiased manner.
Target Audience: Adults 30-45
Key Challenges/Constraints: Create a mobile app and responsive website that make cryptocurrency accessible and understandable without being overwhelming. User interviews and usability study had to be completed virtually. This project had zero budget.
My Role: UX designer and researcher creating an app and responsive website for Your Crypto Journey from conception to mockups.
Responsibilities: Conducting interviews, paper and digital wireframing, low and high-fidelity prototyping in Figma, conducting usability studies, accounting for accessibility, iterating on designs, determining information architecture, and responsive design.
THE PROCESS
User Research
I conducted interviews and created an affinity map to understand the users I'm designing for and their needs. A primary user group identified through research were women with Ph.D.s who cannot define cryptocurrency, but would be willing to learn more.
User research revealed that not being able to define cryptocurrency was not the only factor limiting users from learning about cryptocurrency. Other user problems included trust overall in the idea of cryptocurrency and the ways that information about cryptocurrency are presented
From these interviews I also identified three user pain points:
Trust: Several users in this study do not place much trust in cryptocurrency
Approachability: Adults would be willing to learn about cryptocurrency if they were provided with resources that had clear, concise, and jargon-free content
Understanding: Several users in this study cannot define cryptocurrency
I also used the interviews to create a persona, Jessica. Jessica is an educational professional who does not know what cryptocurrency is, but is willing to learn; mapping Jessica's user journey revealed the need to keep language and information architecture clear.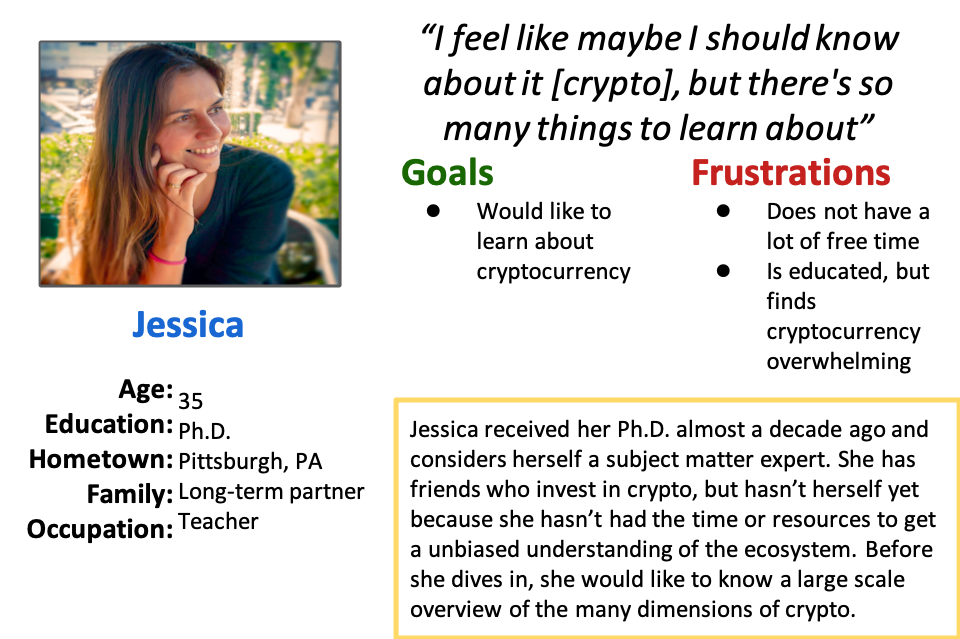 Paper Wireframes
Ideating on the home page and creating paper wireframe allowed me to synthesize initial information gathered from prospective users. For the home screen, I chose a fun and interactive, but clear and concise, way to consider one's journey through crypto. The circled image was chosen as the home screen.

Digital Wireframes
Through initial digital wireframing, I referred to information from the user interviews.
Using the completed set of digital wireframes, I created a low-fidelity prototype. The primary user flow I connected was going on a guided journey about crypto from a definition to how to invest, so the prototype could be used in a usability study.
Click here to view the Your Crypto Journey low-fidelity prototype.

Usability Study
I conducted one rounds of usability studies on the low fidelity prototype. Findings from the first study helped guide the designs from low-fidelity wireframes to the mockups and high-fidelity prototype. Primary findings in round one were:
Users want more visual contrast and elements of visual interest (color, images, etc)
Users need options on the site to learn how information is being used and to stay anonymous
Users want explanatory content on home page, is crypto right for me demographics page, and is crypto right for me results pages
Mockups
Early designs relied on blocks of text, so I used icons and increased the visual content to enhance both the accessibility and the user experience. I also made navigation items larger and clearer.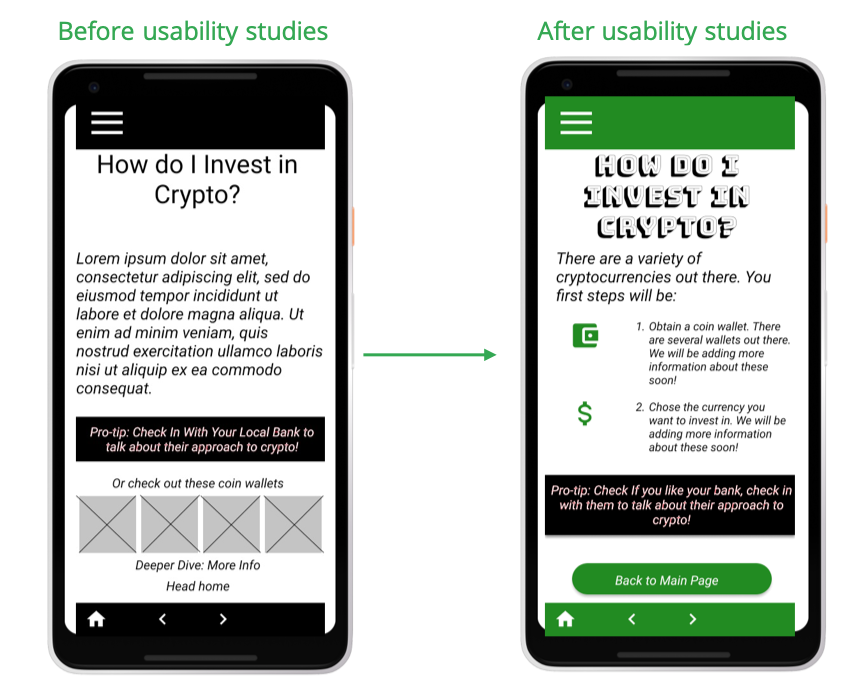 DELIVERABLES
Key Mockups

High Fidelity Prototype
The final high-fidelity prototype presented clearer user flows for choosing and listening to an audio tour. It also met user needs for clear labeling and connectivity concerns. Click here to view the Your Crypto Journey high fidelity prototype.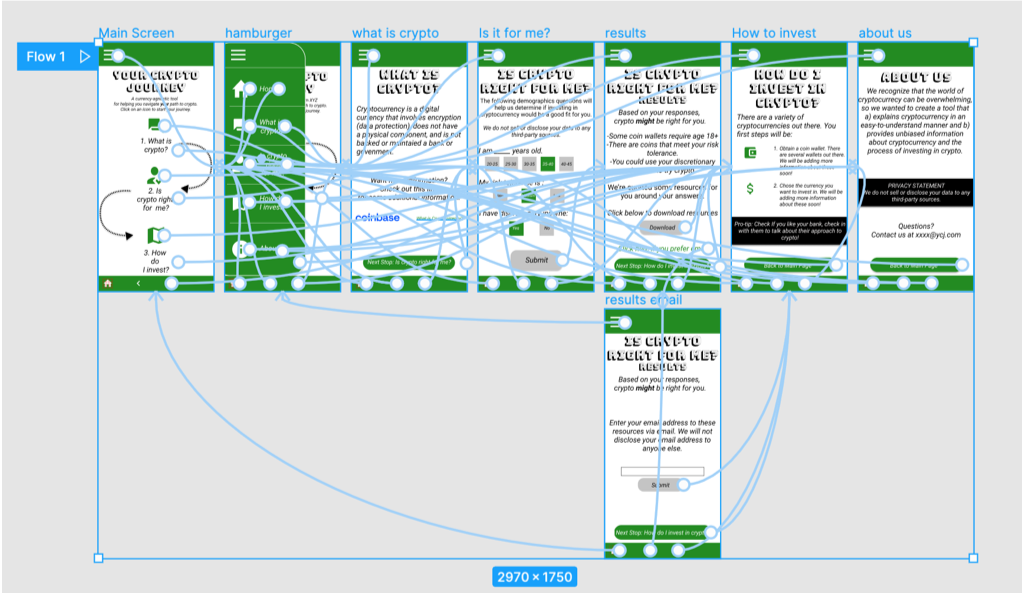 Responsive Experiences
My designs for screen size variation included mobile, table, and desktop. For each, I took into account the specific user needs.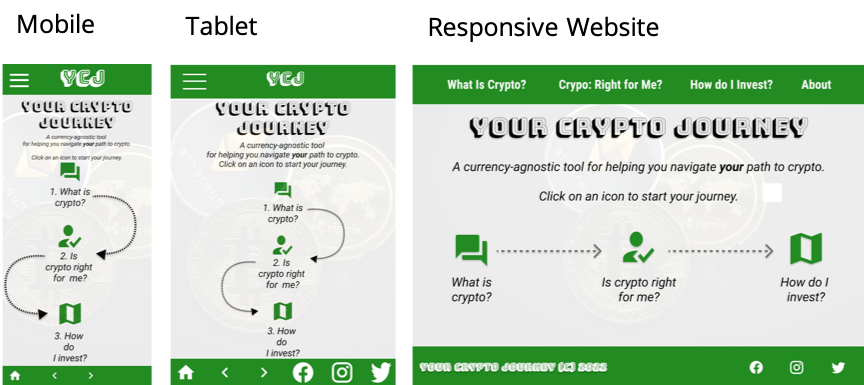 Accessibility Concerns
For the final mockups, I addressed usability study concerns through choosing a high contrast color palette, using icons to help make navigation easier, and using simple and intuitive labels for navigation to help all users feel comfortable with the app.
TAKEAWAYS
Impact
The app starts the process of creating a resource for adults to learn about investing in cryptocurrency.
Lessons Learned
While designing the Your Crypto Journey app, I realized that I need a crypto expert on board to develop the crucial content for an app that achieves the initial goals. User interviews pointed to trends seen in current crypto research* and usability studies were crucial to developing a clearly (from both a navigation and privacy standpoint) navigable app.
Hypothetical Next Steps
Conduct another round of usability studies with a larger amount of participants across a wider variety of demographics to evaluate the high fidelity prototypes
Conduct additional research on cryptocurrency and pictorial representations!.
Collaborate with cryptocurrency experts to build the content for the app and website